The Huffington Post has
written a piece
about the FDIC's failure to disclose all the bids in a bidding process. This apparently is a change of action by the FDIC. Further, HP shows what percentage of FOIA requests the FDIC is denying and that we are at a historical high. We've included that graph below.
The article touches on recently popular topics like the FDIC's loss sharing agreements and its insolvent deposit insurance fund (which we've been talking about forever, including
earlier this week
.
Since the start of 2008, the FDIC has cut 53 such deals, said David Barr, an agency spokesman.

Unlike most federal agencies, the FDIC does not receive appropriations from Congress. Rather, it relies on fees from the banks it oversees. The deposit insurance fund, which protects most bank deposits, now stands at about $10.4 billion; this time last year it was at $45 billion. It's supposed to insure about $4.8 trillion in deposits.

If that fund runs dry, the FDIC has a temporary $500 billion credit line to the U.S. Treasury through the end of next year. It was recently permanently increased from $30 billion to $100 billion.

Thomas argues that's part of the problem. Without knowing what the failed bids were offering, he said, it's impossible to know how much money the taxpayer may ultimately lose.

"The fund will go negative -- there's no doubt about it," he said.

The FDIC has not technically denied FOIA requests for the losing bid documents. Rather, the agency has simply delayed sending its decisions.

But a review of agency records shows that the FDIC has increasingly denied the public access under the Freedom of Information Act.

Through this week, the rate of denied FOIA requests has doubled from last year. In fact, FOIA requests are being denied at a higher rate than at any point during the notoriously-secretive George W. Bush administration.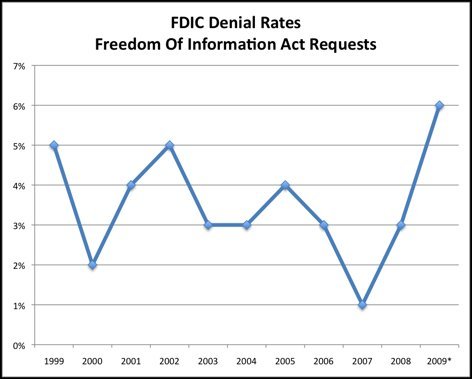 [HT: DB]